Summertime brings vacations, the longest days of the year, and tons of fun in the sun. But our summer days also carry some unique dangers.
Read the tips below to help keep everyone safe this summer!
Water Safety | Harmful Algal Blooms | Heat Safety | Skin Cancer | Vaccines
Drowning:
The American Red Cross warns that 69 percent of young children who drown were not expected to be in or near water. Reduce the risks by:
Putting barriers around your pool to keep kids out when you aren't watching them.
When spending time around open water, like canals or rivers, assign one adult per child to keep an eye on them. Make sure someone is watching that child at all times when they are outside or near the water.
Stay in arm's reach of young children.
Install drain covers and safety release systems to protect against drain entrapment.
Finally, if a child is missing check the water first.
Spreading disease in public and private pools:
Environmental Health Specialists provide annual inspections in public pools, and follow up inspections if a member of the public reports that pool for health code violations. The Public Health District does not inspect private swimming pools (including hotels and motels) unless there is a public health concern.
Staying healthy in the water: chlorine and other disinfectants are a great way
to kill germs in swimming pools. However, they can only do so much. Please keep your family at home for two weeks after any diarrhea or gastrointestinal bugs to prevent spreading the disease to other swimmers.

Learn more here.
Algae are tiny organisms that are found in water. Most types of algae are beneficial; they produce oxygen and food
for animals that live in water. However, when conditions are just right (like warmer temperatures and more nutrients
in the water) algae can produce algal blooms. If the algal bloom contains cyanobacteria the water can become toxic
to humans, pets, fish, birds, and other animals.
The Department of Environmental Quality tests for cyanobacteria when a member of the public notices a problem. If the
tests positive for toxins, South Central Public Health District helps the DEQ inform the public South Central Public
Health District does not do any of the testing for local lakes or reservoirs.
Check here for a list of all harmful algal blooms in Idaho.
Learn more about algal blooms and how to identify harmful blooms here .
Summer temperatures are important for swimsuit season and playing well after dark. But as our long days warm up it can become easy to overheat in the hot sun.The following tips, from the CDC, will help you make the most of the summer heat without letting it overwhelm you or your loved ones.
Stay cool!
Don't leave kids or pets inside cars: cars heat up much faster than outdoor temperatures.
Often a car will be about 20 degrees warmer, even if you leave a window cracked. Children,
elderly, and pets are especially vulnerable to the heat because they can't cool themselves
well. It may help to keep your phone in the backseat with your child, or pet, to remind you
to take them out of the car when they are being unsually quiet. It can also help to keep a
reminder in the front seat with you, like a child's toy or shoe.
Clothing: wear loose, lightweight, and light-colored clothing to keep cool.
Stay cool indoors: if your home doesn't have air conditioning find a public building that
stays cool. Examples are: libraries, malls, grocery stores, senior centers, etc. Even
a few hours spent in air conditioning can lower your temperature back down to safe
levels. Note: fans are not enough in temperatures above 90 degrees.
Stay out of the worst heat: limit your outdoor activity when it is hottest outside. Try to plan
your activities in the evening or morning. Rest in the shade often to keep your internal
temperature down.
Wear sunscreen: when your skin burns it will continue to heat your body- sometimes several
hours after the inital burn. Keep your skin protected from burning by wearing long sleeves,
pants, hats, and suncreen.
Pace yourself: limit your exercise in the heat. If you have to exercise try to cut back and
stay very aware of your body. Don't exercise without a partner. If you stop sweating,
feel nauseated, or faint it is important you seek immedicate medical attention.
Stay hydrated!
Drink plenty of liquids! Water is best, sugary drinks can cause you to loose more body fluid.
Replace your electrolytes: water alone won't replace the salts and minerals you loose in sweat. If you are sweating heavily sports drinks can be a great way to replace what you lose.
Don't forget your children and animals! Leave water in a shady spot for your pets and agricultural animals. Remind your children to drink often. It's important they hydrate before they start feeling thirsty.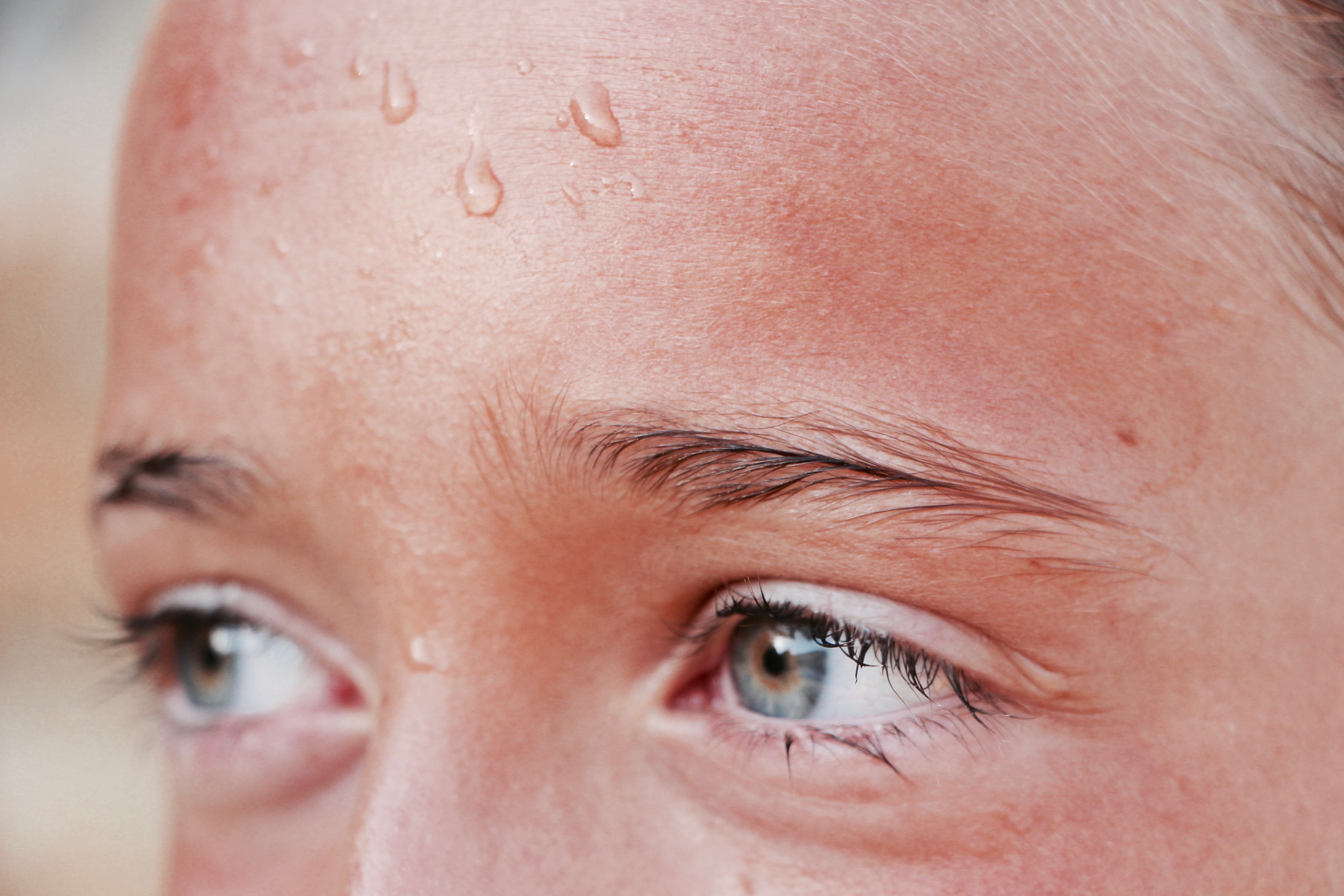 Stay informed!
Watch local weather reports and sign up for weather alerts for your area.
Find several here.
Learn how to identify heat related sicknesses. Learn when to call for medical help.
The CDC has a guide here.
Check on family and friends who live alone. When temperatures become dangerous
make sure your neighbors have air conditioning, or offer to bring them to an
area they can cool down.
Learn more about extreme heat and heat-related illness from the CDC.
Nearly 5 million people are treated for skin cancer each year in the United States and Idaho is number one in the nation for melanoma deaths. This cancer is entirely preventable and can be treated if you catch it early enough with a simple skin cancer screening.
What you can do:
Use sunscreen with an SPF of 30 or higher on anyone over 6 months old. Reapply every two hours, even on cloudy days, and more frequently when you swim, sweat, or towel off. *Do not use sunscreen on babies under 6 months old!*

Wear protective clothing: a loose-fitting and long-sleeve shirt, a wide-brimmed hat, and sunglasses.

Limit time outside between 10 a.m. - 4 p.m. when the sun's rays are the strongest.

Seek or create shade, especially if you have noticed that your shadow is shorter than you.
Traveling to a different community can expose you and your family to new diseases. This is especially true if you are traveling to another country. Make sure your basic immunizations are up to date and check to see if you need any special vaccines for diseases in the area you are visiting. Find a list of vaccines by age here and a list of recommended travel vaccines here.
Even if you are not planning to travel, the Food and Drug Administration (FDA) and the Centers for Disease Control and Prevention (CDC) have authorized and recommended COVID-19 vaccines for everyone 6 months and older, and booster doses for most age groups. These additional doses help give people an extra boost in the fight against COVID-19. Booster doses are especially important for people who are frequently exposed to the disease in their job, or who may be at higher risk because of age, illness, or medication.

Find a provider offering COVID-19 vaccines here. Not all vaccine providers offer pediatric (children) vaccine. Check while making your appointment, or schedule an appointment with SCPHD for children's vaccines.